Go back to news
National Day for Truth and Reconciliation
Posted on: Aug 20, 2021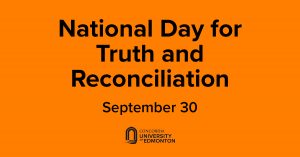 Dear CUE Community,
This September, Canada will mark the first National Day for Truth and Reconciliation—a day to pause, reflect, and acknowledge the tragic history and ongoing legacy of residential schools.
Concordia University of Edmonton (CUE) has decided to recognize this important day, and we are encouraging our students, faculty, staff to take time to honour survivors, their families, and their communities, and remember those who were taken and never returned home.
As part of this recognition, CUE has decided to close operations on Thursday, September 30, 2021. That means that classes, labs, and other course components will not be held, and all non-essential campus services will be suspended. Students who are involved in learning outside of the classroom (placements, internships, co-op positions, etc.) should consult their employer to learn about their plans and expectations.
To achieve reconciliation, we must first confront and understand our collective history, as well as the challenges that Indigenous peoples are continuing to face today. In addition to recognizing the National Day for Truth and Reconciliation, I am also inviting all members of our community to join us on September 27, 2021, for a facilitated conversation about the history and legacy of Indian Residential Schools with Harold Cook and Rocky Ward. The event will be held virtually and is an opportunity to discuss residential schools, the Truth and Reconciliation Commission of Canada, what is happening now, and what more needs to be done. To learn more and register, please click here.
Additionally, the National Centre for Truth and Reconciliation will be hosting a series of virtual events for Truth and Reconciliation Week free of charge. For more information and registration details click here.
I look forward to commemorating the National Day for Truth and Reconciliation with you.
Sincerely,
Dr. Tim Loreman