Go back to news
National Cleaning Week is upon us! Please thank the custodian in your area.
Posted on: Mar 26, 2022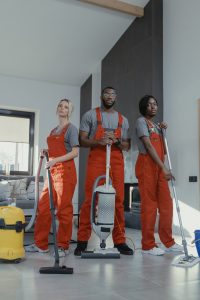 National Cleaning Week starts this Sunday, March 27 and runs to April 2, 2022. This week represents a unique opportunity to celebrate the value of clean and the important, positive impact cleaning has on public health, the environment and the economy.
What Does It Take to be a Custodian?
First impressions are typically lasting ones. This is true both when you meet someone new and for buildings.  Whether your first impression is good or bad, it will be difficult to change that opinion later. 
Each day, our team works diligently to keep our campus clean for the enjoyment of our staff, students, faculty, and visitors. But very few people understand what it takes to be a member of the Custodial Services team.
Proper cleaning and safety awareness help to create a safe and healthy environment.  Cleaning for health is an important part of the true value of clean – as evidenced by our enhanced COVID-19 protocols throughout the pandemic. Cleaning can also have a positive impact on business activities and a positive effect on the things that people care most about.
Being a Custodian is more than just picking up a spray bottle and wiping things down. Custodial work can be hard and physically demanding and involves training with specialized equipment and procedures. Each of our team members must learn a number of skills such as safe use and handling of chemicals, the difference in the types of surfaces they are cleaning and how to clean them (e.g.: walls, hard or carpeted floors, windows, restrooms and showers), safe operation of machinery (e.g.:  floor buffers and carpet extractors), how to clean up biohazards, proper lifting techniques, how to mitigate repetitive movement injuries (e.g.:  moping and sweeping), and how to use proper PPE (personal protective equipment).
It takes daily commitment to deliver high quality performance standards, an ability to demonstrate excellent customer service skills, and a desire to succeed as a team.  For these reasons, we recognize National Cleaning Week and the exemplary job our Custodial Technicians perform!
Please take a moment to thank the custodian in your area.