Go back to news
Mental Health First Aid Standard (Virtual)
Posted on: Oct 26, 2022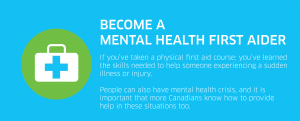 This virtual course is sponsored by CUE Wellness and is open to CUE employees and students.
What you can expect from this course:
• Gain the confidence and skills to engage someone with an emerging mental health problem or in a mental health crisis;
• Greater recognition of mental health problems;
• Decreased stigma; and
• Improved mental health for yourself.
Cost: Free ($250 value!)
Monday, November 7th from 9:00am-4:00pm; plus a 2-hour self-directed module that must be completed by November 4th. Click here to register.
Questions? Contact wellness@concordia.ab.ca