Go back to news
Mental Health & Counselling Services Info Sessions
Posted on: Sep 27, 2022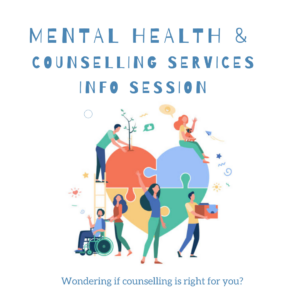 Have you wondered if counselling is right for you? Not feeling ready? That's okay, CUE Counselling Services has more to offer than one-on-one counselling. Come to the info session to learn more about how you can take care of your mental health and what counselling services have to offer. If you would to attend any of the workshops, please RSVP HERE.
Info Session Dates
Wed. September 28, 11-12 pm
Mon. October 24, 11-12 pm
Mon. October 31, 11-12 pm
All sessions will be held in HA238, and there will be snacks!