Go back to news
Men's Basketball Sweep Huskies in Key Early Season Series
Posted on: Oct 31, 2016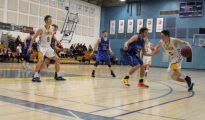 On their first major road trip of the season the Thunder were able to find a way to win two over the Keyano Huskies up in Fort McMurray. In game one the Thunder would take a 16 point lead into the fourth but a furious rally by the home side had the Thunder down one with 12 seconds to play when 4th year Guard Brett Jakubec stole the inbounds pass right under the Huskies basket and laid it in to put the Thunder back in front. The Thunder would secure the final rebound of the game and survive with an 88-87 win. Leaders for the Thunder – Ryan McLaren with a career high 29 points (on 13/14 from the floor) and 9 rebounds, Brett Jakubec stuffed the stat sheet with 26 points, 2 rebounds, 2 assists, 7 steals and 2 blocks. Ron Bacon was also outstanding with 25 points, 7 rebounds, 4 assists and 3 blocks.
In game two the Thunder would have a chance to redeem their 4th quarter performance from the previous night as they led by 15 heading into the final frame and would not let the Huskies any closer than 10 finishing off the sweep with an 86-75 victory. Leaders for the Thunder – Ron Bacon with 21 points, 14 rebounds, 4 assists and 3 blocks, Mike Malin with a bounce back night scoring 18 points and adding 4 rebounds, Brett Jakubec with 16 points and 5 assists with Ryan McLaren registering 12 points, 8 rebounds and 3 assists.
"Execution of our game plan was key this weekend," noted Coach Reagan Wood after the wins. "When we executed at both ends of the floor we had a lot of success. When we went away from it, Keyano was able to take advantage. They have several dangerous players that – if you miss assignments on – will make you pay. We saw that on Friday night when they made their comeback so it was great to get the opportunity the next day to be able redeem our previous 4th quarter performance."
Next up for the Thunder – a 2 game at home stand against the GPRC Wolves. The games go Friday at 8pm and Saturday at 3pm.