Go back to news
Make it Happen YEG Student Innovation Day
Posted on: Sep 27, 2021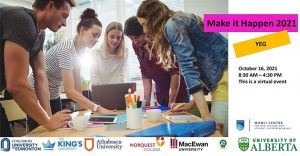 The BMO-CIAR is delighted to co-host the Make it Happen YEG event, in collaboration with the Post-Secondary Innovation Partners in Edmonton.
Leading into Startup Week, this full-day workshop serves as a catalyst for cross-institutional connectivity between student makers and builders. It is a student-centric gather of individuals in the spirit of entrepreneurship and innovation, where you can network and share your ideas and challenges.
This is the fourth annual event, and we are thrilled to be partnering with Agorize for a full-day innovation and design-thinking workshop. You will work with other students on a real-time company problem, and foster connections and collaborations beyond the classroom. You will also have the opportunity to submit your solution to a national competition.
Join us!
Saturday, October 16, 2021
8:30 am – 4:30 pm
This is a virtual event and is free for CUE students to participate in.
What to expect
8:30 am – Start of the Innovation Day
8:30 am – 9am – Introduction, agenda and presentation of challenges
9:00 am – 9:45 am – Design-thinking workshop + Q&A
9:45 am – 10:15 am – Team registration on the Agorize platform + Presentation of the Innovator's Kit
10:15 am – 12:15 pm – 1st round of coaching – 10 min p/team (first 2 steps of the design-thinking method)
12:15 pm – 1:15 pm – Lunch
1:15 pm – 3:15 pm – 2nd round of coaching – 10 min p/team (last 2 steps of the design-thinking method)
3:15 pm – 4:20 pm – 1-min elevator pitch from each team + feedback from coaches
4:20 pm – 4:30 pm – Closing words and end of the session
Register today
Register here at Eventbrite
Questions?
Email Isha Katyal, Director, Innovation and Industry, for your free ticket or if you have any questions.