Go back to news
Last chance to register for the 5K walk/run fundraiser – Registration closes today at noon!
Posted on: Sep 3, 2021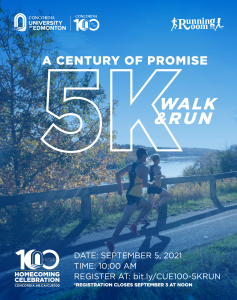 Join us Sunday, Sep 5th during Homecoming 2021 weekend for a fun 5K walk or run! The event is open to anyone (please spread the word!) with all proceeds going towards student scholarships.
Cost to participate in the 5K is $40 (or $35 for CUE staff, faculty, students, and alumni – 5$ is discounted during registration) and you'll receive an awesome swag bag that includes a shirt, water bottle, snacks, sports towel and much more! Register here!
Don't forget to join us afterwards for a free BBQ lunch at noon!
Questions? Contact Barb van Ingen at: vpsll@concordia.ab.ca