Go back to news
Joy Berg leads SkirtsAfire Women's Choir Festival
Posted on: Mar 8, 2018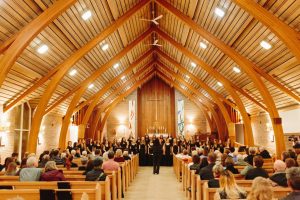 For the third year in a row Joy Berg is coordinating the Women's Choir Festival at Edmonton's SkirtsAfire Festival–an annual 4-day festival celebrating and supporting women artists–happening this weekend in the Alberta Avenue neighborhood.
In celebration of women and International Women's Day, five different women's choirs will be performing and also collaborating with guests folksinger Maria Dunn and fiddler Shannon Johnson. Groups include Concordia's own women's ensemble, Bella Voce Concordia, as well as the Edmonton Metropolitan Women's Chamber Choir, both directed by Joy, and Zingers, led by Concordia music student Kira Dawson. Some of the repertoire incorporates narratives of women, including the story of an uprising in Edmonton's early days, and stories of grandmothers who have made changes in the world (like the Stephen Lewis Foundation grandmothers).
Folksinger Maria Dunn continues after the choral festival with her own set of material, beginning at 8:30.
This special evening of music takes place this Saturday, March 10, at 7 pm at St. Faith's Anglican Church (11725 – 93 St). You are most cordially welcome to join us for this wonderful and unique evening! Entrance for both of these components is by donation.