Go back to news
Join us on Wednesday for a special announcement
Posted on: Aug 16, 2021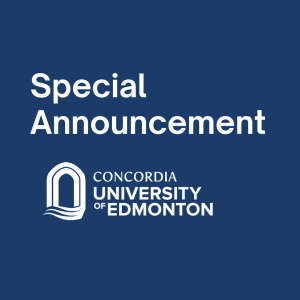 Members of the Concordia University of Edmonton (CUE) community are invited to join us on Wednesday, August 18, 2021, at 1pm for a special announcement with Dr. Tim Loreman, President of CUE, James Wakelin, President of the Concordia Students' Association, and members of the Braaksma Family regarding the future of the historic Magrath Mansion in the heart of the Highlands neighbourhood. 
WHAT: A special announcement about the future of the historic Magrath Mansion
WHERE: Magrath Mansion, 6240 Ada Blvd NW, Edmonton, AB T5W 4N5 (the event will be held outdoors)
WHEN: Wednesday, August 18, 2021 at 1pm MDT
Please note that parking is not available on site and is limited in the community. We are encouraging members of the CUE community to park on campus and walk to the announcement. Thank you in advance for your cooperation. 
About the Magrath Mansion
The Magrath Mansion is a two and one half-storey building situated on a large city lot overlooking the North Saskatchewan River in Edmonton's Highlands neighbourhood. Built between 1912 and 1913 by William Magrath, the house was designated a Provincial Historic Resource in 1975 and has been owned by the Braaksma family since 2000.