Go back to news
Join us for the Machine Learning & Innovation + Symposium
Posted on: Oct 24, 2022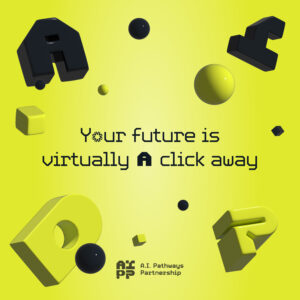 Are you working on a machine learning project and curious if that project has the potential to make an impact in society? We can help!
Concordia University of Edmonton (CUE), through the Center for Applied Artificial Intelligence (CAAI) and on behalf of the Artificial Intelligence Pathways Partnership (AIPP), is pleased to invite students, staff and faculty from the AIPP members to showcase their leading-edge research and innovative Machine Learning (ML) – based projects at the Machine Learning & Innovation + Symposium. 
As part of the AI Pathways Showcase event on Nov. 30, the symposium aims to serve as a platform for all students, researchers, first-time tech-entrepreneurs and innovators to 
Explore if their project can be built into a feasible, viable and desirable solution in the real-world

Build entrepreneurial thinking skills 

Enhance resume and early career experience

Connect with the Edmonton Innovation Ecosystem for support services, grants, and industry connections to advance the project

Build soft skills such as creative thinking, public communication and collaboration among others

Showcase the innovative ML based work being done at the AIPP member communities
Registration information
Registration cost: Free to all (costs covered by the AIPP project co-funded by PrariesCan) 
Interested? Register here and one of our team members will be in touch to set up a meeting with you to explain the next steps.
Registration deadline: November 8, 2022 at midnight
Event details
Machine Learning & Innovation Symposium as part of the AI Pathways Showcase
Wednesday, November 30 · 1:00 – 3:30 pm
Eligibility and participation commitments
This symposium is open to all active student (full time or part-time), post-doc, staff or faculty at the AIPP member institutions

Accepted registrants must commit to 4 mandatory meetings (total 4-6 hours) with the Center for Applied Artificial Intelligence experts who will provide coaching and mentorship for determining the feasibility of the project and building the presentation. The registration will be voided in case the participants miss 2 meetings without prior notice

Participants will be expected to prepare and present a

5-minute presentation

at the symposium

Participants will be expected to prepare a

2.5-minute video

explaining the problem they are addressing and how their proposed solution is innovative. This video must be submitted to

ciar@concordia.ab.ca

by Nov. 15, 2022 5 pm. 
Prizes 
For all participants, a certificate of participation will be awarded. In addition, the following prizes will be awarded by a jury of Judges  based on the evaluation of the video submission and the presentation at the symposium (50% weightage each) 
Campus bookstore gift cards – $100 each

Tuition credits – $500 each in the following categories:

Most creative solution

Most interactive presenter

Most advanced AI solution

In-kind prize from CAAI (100 hours worth of direct mentorship and infrastructure support) to the winner of the most advanced AI solution
Agenda
1-1:05 pm Welcome and introductions by Mike Wade, Director, Centre for Applied Artificial Intelligence, CUE
1:05-1:20 pm Talk Title "Behold the turtle, he makes progress only when he sticks his neck out" by Jay Krushell, Chief Legal Officer and Co Founder Treefort Technologies 
1:20-3:15 pm Presentations (5 min presentation and 3 min Q/A)
3:15-3:20 pm Judging 
3:20 pm  Announcements and wrap-up
Judges