Go back to news
The HPV Vaccine Project
Posted on: Oct 27, 2020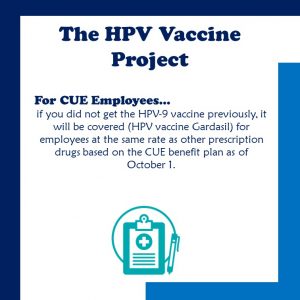 Did you know that CUE recently added coverage for the HPV vaccine to both the student and employee health plans? Wondering how this vaccine can benefit you?
75% of sexually active Canadians will experience at least one HPV infection in their lifetime
HPV causes >99% of cervical cancers worldwide and 84% of anogenital cancers
1 out of every 3 Canadian women diagnosed with cervical cancer will die from it
By eliminating HPV, we can eliminate cervical cancer!
How can you help eliminate HPV?  Get vaccinated! HPV vaccination is indicated and recommended for men and women from 9-45 years old, regardless of past exposure to HPV.
HPV infection is one of the top 6 preventable risk factors of cancer in Canada. An estimated 3 out of 4 sexually active Canadians will have at least one HPV infection in their lifetime and HPV increases your risk of more than 6 different cancers and diseases – some of which you can help prevent by getting vaccinated. Contact your health care and health plan provider for more details!
Learn more about HPV here and at https://www.canadavshpv.ca/ 
Questions? Contact wellness@concordia.ab.ca