Go back to news
Irshad Shariff Selected as CUE's First Promising Student Entrepreneur
Posted on: May 10, 2017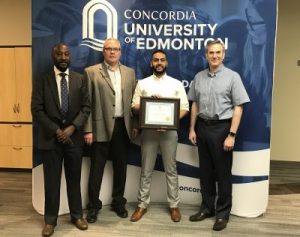 After attending this semester's Lunch and Learn seminars and successfully completing a number of Launch Pad Workshop sessions conducted by the CIAR in conjunction with A100 member and business mentor Tom Ogaranko, student Irshad Shariff has been selected as CUE's first promising student entrepreneur. Irshad will receive $2,000 of business development support funding through the AITF Student and Recent Graduate Entrepreneur Support Program, and will also be provided with one year of complimentary CIAR business incubation space in addition to coaching and mentorship services.
Irshad's startup business Craft Tapp is now eligible to participate in the province wide 150 Startups Skills Development Program event to be held in Calgary May 12th-14th, 2017. The program will culminate in regional and provincial pitch-offs in July where he will compete for over $70,000 in prize money.
On behalf of the CIAR and the CUE entrepreneurship community, we congratulate Irshad on this significant achievement and wish him the best of luck for the upcoming events and competitions. The CIAR also looks forward to providing continued support and assistance in the creation of his innovative first-to-market startup business.
Stay tuned for further CIAR updates as Irshad progresses along his exciting entrepreneurship journey.
About Craft Tapp:
Craft Tapp is an innovative startup business poised to revolutionize the craft beer market.
About the A100 Group:
"A100 members are entrepreneurs, founders and C-level executives who have experienced the full lifecycle of a startup."
About 150 Startups:
"24 of Alberta's 26 post-secondary institutions are working together on a province-wide initiative that builds Alberta's Entrepreneurial Capacity and accelerates the growth of its knowledge-based economy by collaborating on a joint goal of getting 150 post-secondary students [to] become first-time Entrepreneurs."
About the AITF Student and Recent Graduate Entrepreneur Support Program:
"This Program is an initiative to provide Participants with entrepreneurial learning opportunities to learn to apply an entrepreneurial mindset to their future in a knowledge-based economy." The grant Program is administered by Alberta Innovates and funded through the Government of Alberta and Ministry of Economic Development and Trade.
About the CIAR:
CUE's Centre for Innovation and Applied Research (CIAR) works to empower innovation by facilitating industry-driven collaboration, promoting faculty applied research, encouraging student applied research, innovation and entrepreneurship, and enables Edmonton Capital Region enrichment through outreach activities.
(Photo: Dr. Patrick Kamau, David Burry, Irshad Shariff, Tom Ogaranko)