Go back to news
Invitation to Second Café-Terrasse – French Mingling – Monday December 5th
Posted on: Dec 2, 2016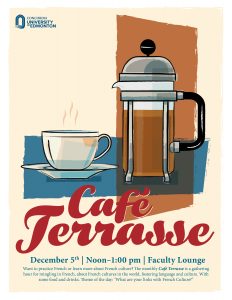 Dr. Joanna Merkel, from the Languages and Literature Department, supported by the International Office, invites you all to the second edition of our Café-Terrasse, a monthly mingling hour in French, in the Faculty Lounge (HA 301), on Monday December 5th, Noon-1 pm.
The suggested theme for our informal conversation this time is "What are your links with French Culture?" Maybe there is no other formal link than that you love French and are learning or would like to learn it? A theme for each gathering allows you to research vocabulary for informal conversations with everyone.
In the pure French tradition, there will be Coffee and Croissants provided.
See you there! Merci et à bientôt
Concordia University of Edmonton – Building Bridges