Go back to news
Institute for Christian Studies & Society presents Dr. Catherine Caufield: Jewish Canadian Women Writers on March 6, 2019
Posted on: Feb 25, 2019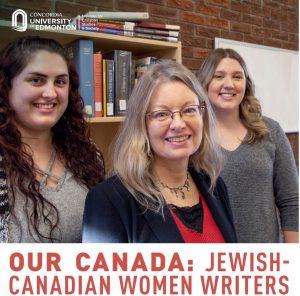 Institute for Christian Studies and Society presents:
Dr. Catherine Caufield
March 6, 2019 at 12:00 pm in Room HA342
Our Canada: Jewish-Canadian Women Writers
The power and influence of religiocultural affiliation (which may be externally assigned) carries widespread import in both popular culture and in institutional contexts.
 A challenge inherent to this power and influence are social and political implications of how particular individuals within particular communities have understood themselves and their place in the Canadian mosaic at particular moments in time, deeply informed by personal and familial histories that are located within what are often seemingly nonsensical twists and turns in world history. Foregrounding the work of Jewish women writers in Canada serves to enhance our understanding of the sociocultural complexity that has developed within the context of the unfolding history of Canada. It is timely work in terms of current reflection, examination, and questioning of the multicultural paradigm that has shaped Canadian identity for at least the past forty years.

This research was supported by the Social Sciences and Humanities Research Council of Canada
Concordia University of Edmonton acknowledges and is grateful for the support of the Government of Canada, through its Research Support Fund