Go back to news
Installation of Chancellor Stephen Mandel: Processional Information for Academic Staff
Posted on: Nov 23, 2017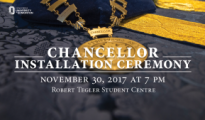 Processional Information for Academic Staff Members:
All faculty are invited to attend the installation ceremony of Chancellor Stephen Mandel and participate in the processional. The ceremony will begin at 7:00 p.m on November 30, 2017 in the Robert Tegler Student Centre
Individuals must provide their own academic regalia if they wish to process. The line-up for the processional begins at 6:15 p.m in the hallway outside of HA208.
Reception to follow.