Go back to news
Inclusion Alberta fundraising breakfast
Posted on: Oct 7, 2016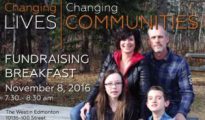 Inclusion Alberta is hosting its annual fundraising breakfast this year at the Westin Hotel on November 8, 2016, at 7:30am. Each year we try and fill a Concordia table. Breakfast is free but as the event is a fundraiser donations are most welcome and encouraged.
Inclusion Alberta and Concordia have a long standing relationship, and we are one of the hosts of the post-secondary inclusive education program that they facilitate. Many of you will have had interactions at Concordia in classes, student groups, or other areas with students with disabilities who are supported by this organization.
Money raised at the breakfast goes directly to supporting people with disabilities.
Everyone in the Concordia community is invited. If you are able to attend please email tim.loreman@concordia.ab.ca