Go back to news
Guest Lecture: Homophobia in the Hallways
Posted on: Nov 6, 2018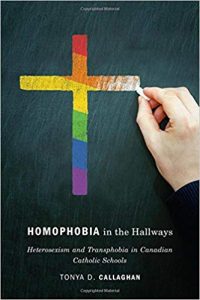 Heterosexism and Transphobia in Canadian Catholic Schools
Tonya D. Callaghan, PhD
Guest Lecture
Monday, November 19, 2018 12-1 pm
Concordia University of Edmonton – Al and Trish Huehn Theatre
Section 15 of the Canadian Charter of Rights and Freedoms ensures equality regarding sexual orientation and gender identity in Canada. Despite this, gay, lesbian, and gender-nonconforming teachers in publicly-funded Catholic schools in Ontario and Alberta are being fired for living lives that Church leaders claim run contrary to Catholic doctrine about non-heterosexuality; meanwhile, requests from students to establish Gay/Straight Alliances are often denied.
In Homophobia in the Hallways, Tonya D. Callaghan interrogates institutionalized homophobia and transphobia in the publicly-funded Catholic school systems of Ontario and Alberta. Featuring twenty interviews with students and teachers who have faced overt discrimination in Catholic schools, the book blends theoretical inquiry and real-world case study, making Callaghan's study a unique insight into religiously-inspired heterosexism and genderism. She uncovers the causes and effects of the long-standing disconnect between Canadian Catholic schools and the Charter by comparing the treatment of and attitudes towards lesbian, gay, bisexual, transgender and queer teachers and students in these publicly-funded systems.
Praise for Homophobia in the Hallways:
"Homophobia in the Hallways is an honest, powerful, and courageous act of scholarship that reveals the conditions facing LGBTQ teachers and students in Catholic schools. It offers extensive and significant information about the state of homophobia in public Canadian Catholic schools, and the systemic operations that maintain the destructive behaviours." Karleen Pendleton Jiménez, Associate Professor in the School of Education at Trent University
TONYA D. CALLAGHAN is an associate professor in the Werklund School of Education at the University of Calgary.
Homophobia in the Hallways pdf
Brought to you by CUE's Interdisciplinary Research Cluster on Wellness