Go back to news
Good luck to Concordia's Model UN Club in Banff this week!
Posted on: Nov 22, 2017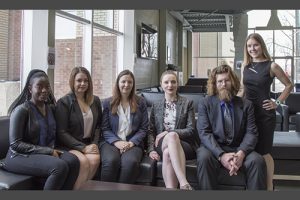 When it comes to the Model UN, 2017 has been a year of firsts!
In March, Concordia University of Edmonton hosted the Alberta Intercollegiate Model UN for the first time. Over 90 students from post-secondary institutions from across Alberta were in attendance, and the event was capped off with a banquet held at the Coast Plaza Hotel, featuring Hon. Marlin Schmidt, Minister of Advanced Education, as the keynote speaker.
Now, in November, we're honoured to host and sponsor the National Model UN Conference in Banff! This is the first time Concordia is hosting the national conference, and it's the first time the conference is being held in Canada!
For a small university, hosting the conference is a big deal! The National Model UN is the world's largest intercollegiate Model UN organization circuit, with participants from over 130 UN member states and 430 universities and colleges worldwide, including
"The reputation they have built for themselves is quite terrific," Dr. Elizabeth Smythe, political science professor, says of the students in the Concordia Model UN Club. "They certainly reflect well on Concordia."
For several years, Dr. Smythe has worked with CUE participants in both provincial and international Model UN assemblies. Since 2013, the Model UN Club has attended national conferences in Korea, Italy, New York and Japan and have been recognized for their public speaking, debating, and negotiation skills in simulating a member country of the General Assembly or some other UN body. At the New York conference in 2016, they received an Outstanding Delegation award and an Honourable Mention in Japan the same year.
Asked what advice she would give students considering joining the Model UN Club, president Whitney Thomson says, "Come join us! You do not need to have political aspirations to benefit immensely from the training you receive in the club. If you expect to ever have to communicate, cooperate, or generally deal with other human beings in your line of work or personal life, Model UN will give you invaluable skills for doing just that. Plus, it's travel you can put on your resume!"