Go back to news
Free Suicide Prevention Training
Posted on: Dec 10, 2020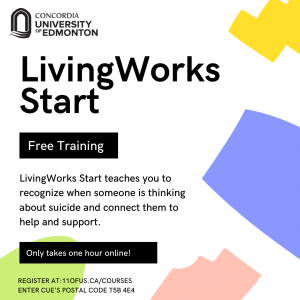 Register for LivingWorks Start, a free 1 hour online training that teaches you to recognize when someone is thinking about suicide and connect them to help and support.
This training is open to staff, students and faculty.
If you're worried about a loved one, check out this article to learn the warning signs and how to have a conversation with them. If you're struggling, reach out to a loved one, and don't hesitate to contact the crisis line at 1-833-456-4566.
Questions? Contact wellness@concordia.ab.ca