Go back to news
Free Eating Disorder Support
Posted on: Mar 6, 2020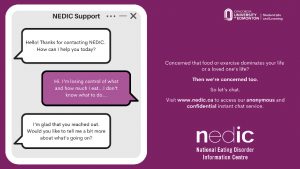 The National Eating Disorder Information Centre (NEDIC) operates Canada's only toll-free helpline and online instant chat platform focusing on supporting individuals affected by eating disorders.  
Did you know 8-17% of post-secondary students are affected with an eating disorder?  Spread the word about this important resource.  You can make a positive impact on someone's life.
Go to www.nedic.ca for more info, to access the instant chat service or call 1-866-NEDIC-20.
Click here to enlarge poster