Go back to news
Food Bank Donations
Posted on: Dec 8, 2021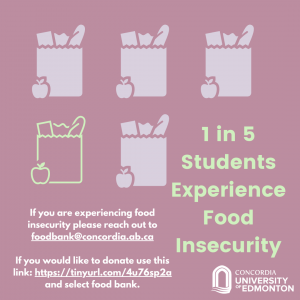 1 in 5 CUE students experience food insecurity according to the spring 2021 student survey.
The Concordia food bank is intended for students who find themselves short on resources to purchase food. It is to provide temporary assistance to students struggling to feed themselves.
You can help by reminding students the food bank is available to support them and by donating to the food bank here.
*monetary donations are appreciated this year in light of the ongoing pandemic.* 
If you have any questions please reach out to foodbank@concordia.ab.ca.
Thank you!