Go back to news
Feathers, Flood, & Fiery Taiko: Drama from the School of Music
Posted on: Apr 20, 2018
The School of Music brings the drama this weekend. Your free tickets (with CUE ID) await at the Bookstore.
Join us for a full slate of student, faculty, and community talent, starting Friday afternoon. Kudos to CUE web application developer Ted Tederoff on raising such a talented daughter: Natalie plays violin with Ombra di Musica, which has its recital Friday.
And don't miss the official debut Sunday of our new Petrof piano in Tegler (thank you Lynn and Stephen Mandel!), also showcasing Concordia's piano instructor Ping-Shan Liao, in concert with the Concordia Symphony Orchestra, directed by Danielle Lisboa.
OMBRA DI MUSICA chamber trio
with Christina Sawchuk, Natalie Tederoff, & Joanna Wittmeier
plays Mozart, von Weber, & a new piece by Concordia student Isabela Ramos
Friday, April 20, 4:30 pm
Lynn Mandel Music Room (A314)
No tickets; admission free
BIRDS OF A FEATHER
The women of Bella Voce Concordia (directed by Joy Berg) host a convivial evening of musical and edible treats, framed around our feathered friends and God's care for all creation. The concert offers a showcase of individual and small-group talent in addition to choral pieces, accompanied by avian ambiance and an array of homemade sweets.
Friday, April 20, 7 pm in the Tegler Centre.
Facebook page: https://www.facebook.com/events/212522599302418/
WALK IN THE WIND
From breeze to rainshower to a deluge of biblical proportions—the cleansing power of water and the gracious hand of God thread through this program presented by the Concordia Community Chorus (dir. Joy Berg). The brilliance of creation is recalled by Vivaldi's Gloria. The disturbance, destruction, and regeneration of that world is then captured in a buoyant rendering of the saga of Noah's flood, Captain Noah and His Floating Zoo, accompanied by the Concordia String Quartet and guest musicians, with staging by Concordia drama students Teagan Kamstra and Emily Assenheimer. Also catch Concordia choristers Teagan Kamstra, Jessa Clarkson, Kira Dawson, Hayley Tomich, and Christina Sawchuk in solo roles in the Gloria.
Saturday, April 21, 6 pm
Glory Lutheran, 22577 Highway 16, Sherwood Park (via Yellowhead access road at RR 225)
FB page: https://www.facebook.com/events/604299513246769/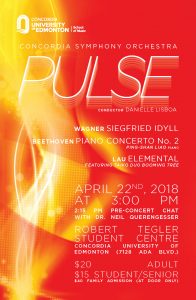 PULSE
Concordia Symphony Orchestra's final concert of the 2017–18 season is bursting with energy!
The orchestra is proud to present the Albertan premiere of Chinese-Canadian composer Kevin Lau's Elemental scored for strings, percussion, and Japanese taiko drums, starring taiko duo Twilla & Greg from Booming Tree. In the composer's own words the music of Elemental "serves as a conduit, channeling energy into a multitude of primal human conditions—violence and aggression, dance and song, love, despair, and change—as symbolized by the elements of Fire, Earth, Air, and Water."
The flagship, Beethoven's Piano Concerto No. 2, opens the program, rendered by Taiwan native Ping-Shan Liao, pianist. The high-voltage bolts of the rondo set the stage for the afternoon. Next is the very personal Siegfried Idyll, which Richard Wagner composed for his wife following the birth of their son.
The afternoon starts with a pre-concert chat presented by Dr. Neil Querengesser at 2:15.
Sunday, April 22, 3 pm in the Tegler Centre.
FB page: www.facebook.com/events/189850728472132/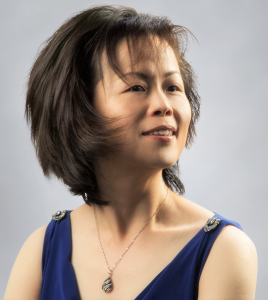 Ping-Shan Liao shows off Concordia's new Petrof piano in PULSE on April 22