Go back to news
Farewell from Sharon Zhong
Posted on: Jul 29, 2020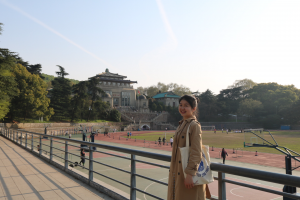 Sharon Zhong, the visiting Chinese language teacher, concluded her posting at the Centre for Chinese Studies at CUE and returned to China on July 14th, 2020. During her 8 months at CUE, she worked diligently and built strong relationships with Chinese language learners, Chinese culture fans, colleagues, and community members. Sharon taught X-CHN 01 (Chinese HSK Level 1) and X-CHN 04  (Chinese HSK Level 4) extension courses, co-ordinated and participated in many CCS, OEC and International Office cultural activities, such as the Chinese New Year celebration, Chinese Movie Night, the Chinese Art Exhibition, Concerto Competition for Youth, and the Intercultural Day celebration.. She also played an important role in assisting with the Chinese Teachers' Online Training programs in June 2020.
Unfortunately we were not able to say goodbye to her in person due to the current situation but we all wish her the best back home in China. Below is a Chinese article that she wrote about her time with CUE that was published on the Hanban website:
http://www.hanban.org/volunteers/article/2020-07/13/content_810664.htm
Below is her farewell message to CUE:
Goodbye, my dear colleagues and students
On November 25, 2019, I flew across a temperature difference of 20 degrees Celsius between the early autumn in Wuhan, China to the cold winter in Canada in 15 hours. The flight went well, Edmonton gave me a warm hug, and the blizzard came outrightly the next day.
Recalling the life of the past 8 months, from the first school event Tree lighting, the multi-cultural festival, the Chinese New Year events to the Chinese movie nights, from Chinese HSK course teaching to course posters designing… My gains on the job speak for themselves. What's more fortunate is that I have met a group of amicable colleagues who gave me infinite care in the lengthy winter of Edmonton.
In early June 2020, nearly 500 Chinese teachers from the United States and Canada engaged in Chinese teaching took part in the unprecedented large-scale in-service "cloud" training on the CHINESEPLUS platform. In the context of reflecting on online teaching during the outbreak, Dr. Xinxin Fang, from the Office of Extension & Culture and Centre for Chinese Studies, was responsible for organizing the training work of "the Instructional Designing for Online Teaching" workshop. During the teaching training workshop, observing the styles of many excellent teachers and having a taste of the different teaching styles of them via the "cloud" made me feel like the luckiest one.
In China, it is said that "Using the copper as a mirror, clothes can be straightened. Taking one person as a mirror, the gains and losses are evident", so does the work I reckon. It is precious to work with Dr. Manfred Zeuch, Dr. Xinxin Fang and many talented CUE colleagues, who are graceful and dedicated to duties.
Time flies, I haven't had the opportunity to say goodbye to my colleagues one by one before I returned to China given the situation. Thank you, my dear colleagues, friends, and students for your love. I am glad to meet such a friendly and lovely group of you at Concordia University of Edmonton!
Best wishes!
Sharon