Go back to news
Concordia University of Edmonton Announces Plans to Return to Campus this Fall
Posted on: Mar 5, 2021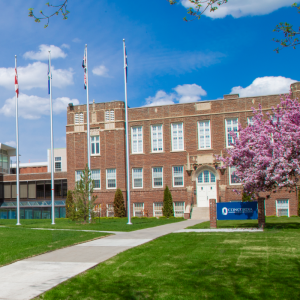 Concordia University of Edmonton (CUE) is planning for a significant return to campus this fall given the current outlook for vaccinations and additional public health measures over the coming months.
"Our campus community has shown tremendous compassion and resiliency throughout the COVID-19 pandemic," said Dr. Tim Loreman, President and Vice-Chancellor of CUE. "While we cannot know with certainty what the coming weeks and months will bring, we feel confident that we will be able to deliver an increased number of in-person experiences and services while continuing to prioritize the health and safety of our students and employees."
In addition to offering an increased number of in-person learning experiences and services, CUE will continue offering virtual programming and will introduce a number of flexible courses.
"Flexible delivery is a carefully planned, thoughtful approach to instruction that takes advantage of the best features and aspects of online and face-to-face teaching, course design and delivery, and learning," said President Loreman. "It is neither fully online or in-person—rather, it is a mixed delivery method that includes the flexibility of offering both online and in-person experiences according to the demands of the course and needs of the students."
CUE is currently exploring how to offer the highest number of in-person experiences while ensuring the health and safety of its community, and complying with public health recommendations and directives.
"It is likely that some public health directives will remain in place this fall," said President Loreman. "The situation is continuing to evolve daily, and we won't be in a position to make definitive decisions about courses, labs, residences, facilities, or capacities for some time. However, we will continue to communicate regularly to ensure our students and employees have the information they need to make plans for a safe semester."
CUE's spring and summer semesters will remain predominately virtual, with limited exceptions for classes and programs that require in-person interaction and extensive experiential learning.
"While the past year has been difficult, we have learned new skills and found ways to adapt our programming and service delivery while maintaining our campus culture," said President Loreman. "We are implementing our learnings to meet the changing needs of our community, and look forward to experiencing the energy and excitement that having more of our students on campus will bring this fall."
More information will be shared as it becomes available. Thank you for your patience and understanding.