Go back to news
Faculty of Science Presents 'IT Seminar Speaker Series' – Intelligent Dermatology with Dr. Maryam Sadeghi
Posted on: Nov 18, 2021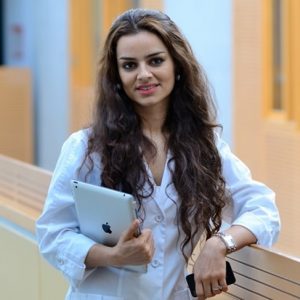 Join us!
When: Friday, November 26, 2021
Time: 4:00 pm MST
Where: Google Meet
Intelligent Dermatology
Dr. Sadeghi will explain how IT and emerging technologies can support physicians and healthcare systems to provide better services to the patients.
About the Speaker
Maryam Sadeghi, the CEO and Co-Founder of MetaOptima Technology Inc, completed her PhD
in Computing Science at Simon Fraser University in the Medical Image Analysis lab. In addition,
Maryam was the recipient of the CIHR Skin Research Training Scholarship and completed her
research at the BC Cancer Agency and Skin Care Center at UBC Dermatology.
In 2012, she co-founded MetaOptima Technology Inc. with Dr. Majid Razmara in Vancouver,
Canada, where MoleScope and DermEngine were developed for intelligent dermatology, smart
skin imaging, analytics and management. Dr. Sadeghi has won numerous national awards for her innovative works.
Since its development, MetaOptima has become one of the fastest growing digital health
technology companies in Canada, with successful expansion into the US, UK, Italy, Australia,
and New Zealand. The company is continuing to extend its reach through expansion into the
global market, and empower a greater number of physicians and patients for better care
outcomes.
About IT Seminar Speaker Series
The speaker series aims to introduce CUE students and other interested individuals to emerging topics in IT, professional issues and responsibilities, employability skills, and careers in IT-related areas.
Contact
For questions about this seminar, please email:
Dr. Nasim Hajari, PhD, Assistant Professor, nasim.hajari@concordia.ab.ca