Go back to news
Fab Friday June 26th, 2020
Posted on: Jun 26, 2020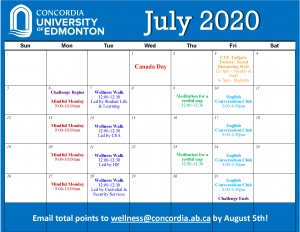 Hi CUE!  Welcome to Fab Friday, an initiative of CUE Wellness Connection. #cuewellness #wegotthis
Big news: Fab Friday is going on vacation!  Don't worry though, CUE Wellness has many initiatives to keep things interesting over the summer! Check out this week's video to find out more: https://youtu.be/qtakYXznyT0
Mark your calendars, here's what's coming up!
Join the July 2020 Wellness Challenge and register today!  The challenge runs from July 6th-31st. Register by completing the registration form here and emailing to wellness@concordia.ab.ca . You can join the challenge at any time!
Friday July 3rd – CUE Tailgate Twister: Social Distancing Style. Hole Academic Centre Parking Lot.
Staff & Faculty Event 12-3pm!  Student Event 4-7pm!
Mindful Mondays every Monday @ 9:00-10:00am
Wellness Walks every Tuesday @ 12:00-12:30pm
Meditation for a restful nap Thursday July 9th and 23rd @ 12:00-12:30pm
English Conversation Club every Friday @ 3:00-4:30pm
Click here for the calendar and description of the events. All events are FREE and open to students, staff and faculty.
Audio relaxation exercises are now on the CUE Wellness page.  Take a few minutes to give them a try!  They even count towards July 2020 Wellness Challenge points!
We encourage you to check CUE social media pages every Monday, Wednesday and Friday for: 
Mindful Mondays – Join us at https://meet.google.com/szc-hewx-ocd every Monday from 9:00 to 10:00 AM where we'll chat about various topics related to social connection and mindfulness.
Wellness Wednesdays – a new weekly fitness challenge will be posted every Wednesday. Check out https://www.instagram.com/cuedmonton/ and https://www.instagram.com/cue_athletics/ daily for more ways to stay active during isolation. #cuestaysactive
Fab Fridays – will be back in the Fall!  
Questions? Contact CUE Wellness at nicole.houghtaling@concordia.ab.ca for more information.
Have a great weekend!