Go back to news
Fab Friday comes early!
Posted on: Apr 9, 2020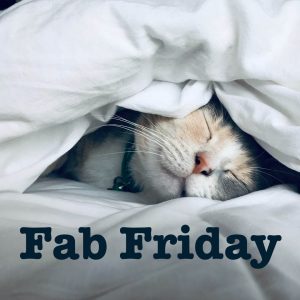 Hi CUE!  As tomorrow is a holiday we're bringing you Fab Friday on Thoughtful Thursday!
Welcome to Fab Friday, an initiative of CUE Wellness Connection. Today's video takes you to the bedroom!  Let's talk about sleep! https://youtu.be/0P5AriIUBGA
Having trouble sleeping?  If so, you're not alone.  Check out this infographic: Are Canadian Adults Getting Enough Sleep? 
Need more sleep tips?  This resource from Anxiety Canada might be useful to help get your sleep back on track! 
Laughter is still one of life's best medicines! What's the funniest video or meme you've seen recently?  Let's share the laughter.  Post your favourite and tag @CUEdmonton #cuewellness #wegotthis
We encourage you to check CUE social media pages every Monday, Wednesday and Friday for: 
Mindful Mondays – Join us at https://meet.google.com/szc-hewx-ocd every Monday from 10-11 AM where we'll chat about various topics related to social connection and mindfulness
Wellness Wednesdays – a new weekly fitness challenge will be posted every Wednesday. Check out https://www.instagram.com/cuedmonton/ and https://www.instagram.com/cue_athletics/ daily for more ways to stay active during isolation. #cuestaysactive
Fab Friday – every Friday will focus on other wellness topics like nutrition, sleep, relaxation, laughter, and much more!