Go back to news
Today! Distinguished Scientist Lectureship
Posted on: Nov 8, 2017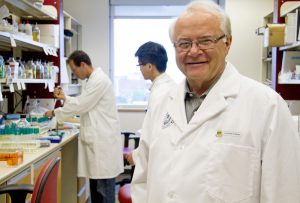 It is with great pleasure that the Faculty of Science invites you to the inaugural Distinguished Scientist Lectureship. 
We are honoured to host Dr. Lorne Tyrrell (University of Alberta) as our inaugural speaker, as he presents "Transforming Viral Hepatitis". 
When: Wednesday, November 8, 2017
Time: 12noon – 12:50pm
Where: DSL Seminar (Room HA017)
OPEN TO THE ENTIRE CUE COMMUNITY
Dr. Tyrrell, who was inducted into the Canadian Medical Hall of Fame in 2011, is credited with the development of the oral antiviral drug, lamivudine, as a result of his research into viral hepatitis, saving the lives of thousands of people infected with hepatitis B.  The drug allows liver transplants for persons infected with the disease.
We hope you can join us in the launch of this exciting initiative for CUE.