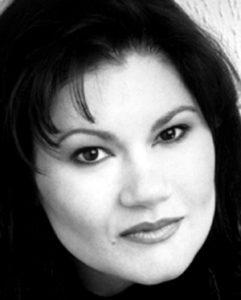 Actor, singer, writer, and director Michelle Rios has been spending some time at Concordia University College of Alberta, as the director of the Drama Department's fall production, The Secret Garden.
Michelle has worked in the entertainment industry for over 25 years. Through hard work and dedication, she's carve out a successful career that has opened so many doors, and earned her opportunities some only dream of. Now, with an impressive list of credentials tied to her name – including Broadway and feature film works– she can easily be referred to as a seasoned veteran.
Michelle's journey into the fine arts began in high school and continued through to university, where she studied music and majored in voice. It was around this time that she started to take note on how the love affair she had with performing, really had an impact on her life.
"I used to be very shy," Michelle says. "Music was a huge savior for me – it really took me out of my shell."
Music not only got Michelle out of her comfort zone, but it's what ultimately steered her towards theatre. With her vocal chops – and a strong appreciation and understanding for lyrics – this was a natural transition for her.
"Music itself is very theatrical," she explains. "Some of the best songs are theatrical in structure."
Through the stage, Michelle was able to explore all performance mediums and the ways in which each can meld together. When she began auditioning in New York all her combined experience came in handy, helping her to land various roles on Broadway – including Paul Simon and Derek Walcott's 'The Capeman'.
Michelle still travels frequently to entertainment hubs like New York and LA for work. However, she is more selective than she use to be when it comes to choosing projects. Most recently she has been seen in the feature film 'Frontera' alongside Academy Award nominee Ed Harris.
Even though she's rubbed elbows with Hollywood's elite, it's working with marginalized groups and youth that really inspires her. Through organizations like ENACT and the The Youth 'Artivist' Theater Project, she's been able to spend time teaching and giving back, using community based theatre.
"I want to use theatre and music as a way to influence social change, and work with people from different walks of life who are looking for ways to tell their stories," she explains.
For more information on Michelle and her work, visit her website at www.mmrios.com.
Concordia's production of The Secret Garden is now playing through till November 9. For the full performance schedule, click here.