Go back to news
Cyber Security Month – Security Reminder
Posted on: Oct 13, 2022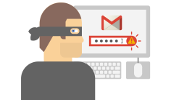 Post-secondary institutions across Canada are routinely being targeted by phishing attacks, malware, and increasingly by ransomware as well.
CUE IT Services would like to remind all employees and students of the importance of their own online security, particularly in relation to their Concordia accounts.  It is an ongoing challenge because as our tools and defenses advance, so too do the attacks that we face.  Concordia is not immune to online threats, so we must remain ever vigilant by keeping ourselves informed and taking steps towards increased security.
October is Cyber Security Month, and IT Services would like to encourage you to take this opportunity to be reminded how to best protect ourselves individually, departmentally, and as an organization.  While part of the responsibility to protect Concordia against online attacks rests with IT Services, it is incumbent on everyone within the Concordia community to do their part as well. 
What are some important steps to protect yourself from online threats?
Ensure you are practicing strong password security (including MFA).  A malicious individual gaining access to your account can serve as a launching pad for other attacks within our institution.  We would recommend that the passwords you use for your CUE account(s) be both unique (not reused on other websites) and complex (not easily guessed).  The other most important thing you can do is enroll in Multi-Factor authentication, if you have not already. More information can be found here: https://confluence.concordia.ab.ca/display/ITHELP/MFA+Set+up+Options
Do not click on any links or open attachments from unsolicited or suspicious emails.  If the sender appears to be legitimate, you can contact the sender (by phone or in person) to confirm the contents of their email.  Also feel free to involve the IT Services Helpdesk if you are concerned about and would like additional guidance.  Remember that IT Services will never ask you for your password.
Respond quickly to a possible infection. If you believe you have already been infected, either by having clicked a link, opened an attachment, or simply by observing unusual and concerning behaviour of your computer, please immediately shutdown your computer and contact IT Services for assistance as quickly as you can. We understand that these kinds of mistakes happen, and can offer help to remedy the situation promptly.
Ensure your data is being backed up.  IT Services reminds you to not store important data locally on your desktop or laptop computer.  If you store data there and do not back it up, it may be lost and unrecoverable in the event of a cyber-attack.  We offer individual H:\ drive storage for all employees that is backed up as well as the shared folders that employees and departments have access to (such as G:\ drive). Data can also be stored on your CUE Google account. 
Be aware of the methods used by attackers.  They may impersonate co-workers or friends or they may refer to things which seem to be 'inside' knowledge.  Essentially, they may look and sound very convincing and you need to be cognizant of subtle differences and clues that can distinguish them.
If you have questions or would like further explanation, please contact IT Services at
helpdesk@concordia.ab.ca
or 780.479.9316