Go back to news
CUE will house the new Western Canada Brazil Hub 
Posted on: Dec 6, 2022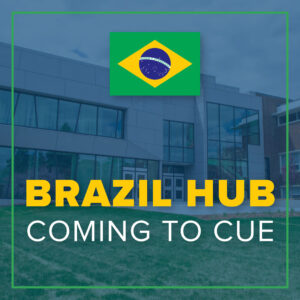 The CUE Innovation Hub (CIH) is championing innovation around the globe – the Chamber of Commerce Brazil-Canada (CCBC) decided to establish its Western Canada Brazil Hub on CUE's campus.
The joint initiative between CUE and CCBC will focus on enhancing and strengthening economic exchanges between Brazil and Canada, by housing and supporting Brazilian companies at the CIH within the Allan Wachowich Centre. Edmonton will continue to play a key role for Brazilian companies in Western Canada – the Eastern hub is housed in Montreal. 
The CIH was chosen because of its support infrastructures, CUE's student, faculty and staff expertise and excellent business contacts within the wider community. Brazilian companies seeking connections within the Canadian market – with government and industry – will be supported by the hub.
Please join us as we announce our partnership with CCBC on December 9 at 1 p.m. in the Tegler, and sign the Memorandum of Understanding between CUE and the CCBC. 
We are marking this occasion with a special performance and guest speakers, including Ambassador Renato Mosca de Souza, Consul General Brazil; Brian Jean, Minister of Jobs, Economy and Northern Development; Michelangelo Madalena, Director of the CCBC; and representatives from Invest Alberta, and Edmonton Global. 
Helping Brazilian businesses grow
As a partner with CCBC, CUE will play a vital role in supporting Brazilian companies entering Alberta. In turn, it will be an excellent opportunity for the CUE community members to align their talents with companies from all sectors of business, such as tech, agriculture, and the energy sectors.
CUE will provide a ripe environment for entrepreneurship that will help businesses grow and be competitive.
"The hub will create work-integrated learning opportunities for CUE students and collaborative applied research opportunities for CUE faculty. CUE has a solid web of university partners in Brazil and this will benefit the joint initiative," says Manfred Zeuch, Vice-President, External and International Relations at CUE.
"The innovators will also be able to connect with the Canadian community culturally through all the cultural events that happen in a post-secondary environment," Manfred adds. 
We look forward to strengthening our relationship with the CCBC, and working with the recently appointed Patricia Garcia da Rosa, Western Canada Director of the CCBC board. Patricia says the Innovation Hub will be a key strategic initiative for the CCBC in strengthening Brazilian companies' global presence.
"Alberta's strengths in artificial intelligence, agriculture, energy, cybersecurity and other emerging industrial sectors are key attractions for us." – Patricia 
Patricia will be facilitating opportunities and events within Alberta, and promoting business-to-business trade missions between Alberta and Brazil. 
"With the signing of the MOU, CUE will be on a path to creating new opportunities and forging stronger connections between the CUE community and Brazilian businesses and universities long into the future," says Manfred.