Go back to news
CUE welcomes international students for the English Summer Program 2017
Posted on: Jun 26, 2017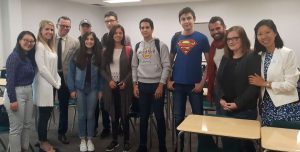 The IESP (Intensive English Summer Program) officially kicked off today. We are delighted to welcome our 2017 IESP students coming from Germany (from a partner university in Saxony!), Italy, Kazakhstan, Mexico, and Turkey!
Besides a 5-week intensive and comprehensive course in English language listening, speaking, reading and writing, the students will also explore Canadian society and culture by participating cultural excursions to Alberta Legislature, Fort Edmonton Park, Elk Island National Park, Eskimos Football, Whyte Avenue, Farmer's market, and a trip to Jasper National Park.
Dear IESP students, welcome to Canada! Welcome to Concordia!
Concordia University of Edmonton – Building Bridges