Go back to news
CUE signs breakthrough MOU with Edmonton Catholic School District
Posted on: Apr 19, 2017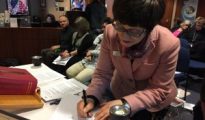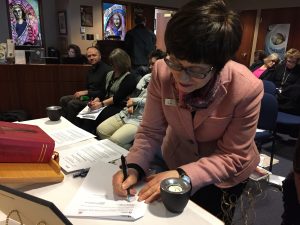 We are thrilled to announce that Concordia University
of Edmonton (CUE) and the Edmonton Catholic School District (ECSD) signed a Memorandum of Understanding yesterday regarding a new and exciting effort for CUE to provide psychological services and research collaboration.
Our Department of Psychology is pleased to be forming the basis for a long term ECSD-Concordia partnership. A summary of our long-term goals includes: (a) strengthening the psychological service capacities of ECSD school communities; (b) initiating practicum placements for supervised graduate students; (c) advancing community-driven research and innovation in ECSD facilities to benefit children, young adults, and families.
CUE currently offers three- and four- year Bachelor of Arts degrees in Psychology, in addition to, graduate certificates and diplomas in Psychological Assessment. A brand new applied psychology research centre and clinic is expected to open at CUE next year, upon the completion of construction of its new Centre for Science, Research and Innovation.