Go back to news
CUE Management Students awarded Chinese Government Scholarships for unique dual degrees program
Posted on: Aug 13, 2019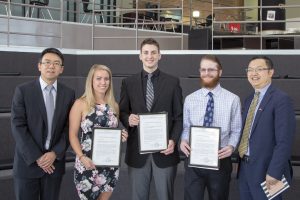 Concordia University of Edmonton was honoured to host Chief Education Consul, Mr. Jun Guo, from the Chinese Consulate General in Vancouver, as he presented three CUE students in the unique dual degrees Bachelor of Management program, with the scholarship award certificates in a well-attended ceremony on August 6, 2019.
These scholarships, which are equivalent to 32,000 Canadian dollars each, will support our students in their two years of study in China, covering full tuition, accommodation, living allowance, and medical insurance.
CUE is particularly proud of its students being awarded three of the five available full scholarships, highlighting the level of merit and potential of our students!
These students will form the first cohort of the Dual Degrees Program in Management. This program allows them to take their first and fourth year courses at Concordia University of Edmonton, and their second and third year courses at Beijing Foreign Studies University (1+2+1). Upon graduation, they will receive degrees from both universities.
Congratulations to our scholarship recipients:
James Wakelin
Benjamin Lummis
Victoria Wakelin
About the Event
The 2019 Chinese Government Scholarship Award Ceremony was the first of its kind for CUE. It took took place in our Tegler Student Centre and was attended by the Chief Education Consul Mr. Jun Guo, Education Consul Mr. Yunan Fu from the Chinese Consulate General in Vancouver, along with 90-100 attendees comprised of friends and family of the award recipients, visiting students from China, CUE students, faculty and staff. Faculty and students from CUE's international partners from Beijing, Shandong Province, and Hong Kong were also present at the ceremony.
The ceremony began with an opening address by Dr. Xinxin Fang, Director – Centre for Chinese Studies and Office of Extension and Culture. CUE's President, Dr. Tim Loreman, welcomed the education consuls, award recipients and attendees to the event. Dean of Management, Dr. Alison Yacyshyn, spoke about the importance of having programs that provide cross-cultural learning and international exposure for students.
The attendees enjoyed performances and presentations by both local and Chinese visiting CUE students. The event wrapped up with the cutting of a Congratulations and Bon Voyage cake and a group photo.
Concordia University of Edmonton would like to extend special thanks to Mr. Jun Guo, Chief Education Consul and Mr. Yunan Fu, Education Consul from the Chinese Consulate General in Vancouver for presenting the awards. We would also like to thank the Chinese Government and the Ministry of Advanced Education in Alberta for enabling Canadian students to experience the culture and academics of China.
Program information
To know more about the program, please visit: https://concordia.ab.ca/management/bachelor/new-management-international-dual-degrees-program/ or email us at extension@concordia.ab.ca
Photo Gallery