Go back to news
CUE is now home to the new Western Canada Brazil Hub
Posted on: Dec 12, 2022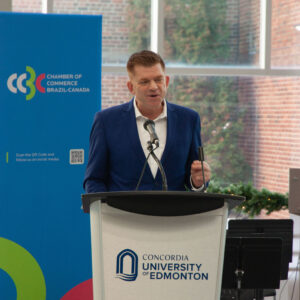 Brazilian companies and the CUE community will reap the mutual benefits from the signing of a Memorandum of Understanding (MOU) that establishes a Western Canada Brazil Hub at CUE. 
The MOU between CUE and the Chamber of Commerce Brazil-Canada (CCBC) last Friday, December 9, 2022, marks the beginning of a strategic relationship that will leverage a global reach for Brazilian companies. Companies will get a soft landing at the CUE Innovation Hub (CIH) to begin their journey here. 
Guests from across government and industry gathered in the Tegler to celebrate the new partnership, which will benefit Alberta and Brazil's economy. 
President and Vice-Chancellor Tim Loreman, spoke about the inspiration gained from visits to the tech parks in Brazil. The CIH, where the Brazil Hub will be housed, was built with these models in mind. "I was most impressed by the tech parks that are connected to many Brazilian universities, where large companies such as Hewlett Packard, right down to smaller start-up businesses base themselves on-campus or immediately connected to campus," Tim explains. 
"This serves two purposes," Tim adds. "First, it enables the companies to take advantage of the expertise present in the university environment. Second, it benefits the university, providing a real-world environment in which to incubate ideas, and unique learning opportunities for students."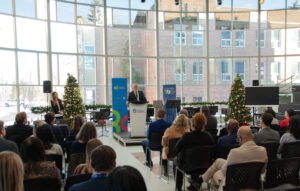 "This vision and strategy started in January of 2012," says Manfred Zeuch, vice-president, External and International Relations at CUE told the audience. "Among our 100 MOUs that we have worldwide, Brazil is one of our three main strategic focuses in the world, and we just signed our eighteenth MOU last month."
 "Brazil is a country where CUE has the most partnerships," Manfred explained. "We have been establishing student exchanges, with Brazilian and Canadian scholarship programs. We have sent professors to Brazil who taught, undertook research, collaborated on published research papers, and welcomed colleagues over here at CUE." 
Manfred had the exciting opportunity to announce the first company to join the Hub from Brazil – Mitsidi. The company is on the forefront of the fight against climate change. 
"They aim to join forces with the expert minds already located here in Edmonton and Canada in order to multiply its positive impact on countries and populations all over the world, changing the way people produce and use energy and helping to build a low carbon future," says Manfred.
Speaking at the event, the Honourable Brian Jean, Minister of Jobs, Economy and Northern Development says he believes Brazilian companies will have a seamless transition into the Alberta market. The minister mentioned that Alberta is currently leading the nation in employment rates, and has the highest net migration in Canada.
"I may be a bit biased, but you have made the right choice," – Minister Brian Jean said to CCBC about choosing Alberta and CUE as its new home for its western chamber. 
Ambassador Renato Mosca de Souza, Consul General from Brazil, wanted to thank CUE for hosting the Brazil Hub and said he had long had a vision that there would be a hub in Western Canada to increase visibility to the area. Cities in the west do not get the attention they deserve, he said – but billions of dollars in trade occur between western provinces and Brazil; industry, such as fertilizer, can bring in as much as two-billion dollars alone, he said. Speaking about the need for the Brazil Hub, Renato said "since the pandemic and with the expectations of a recession in 2023, we need to capitalize on opportunities for growth in Western Canada." 
"Thank you for making this dream of a western Brazil Hub a reality." – Ambassador Renato Mosca de Souza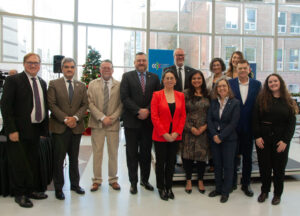 Michelangelo Madalena, Canada Director, CCBC, revealed that the MOU signing coincides at an important moment for CCBC, as they celebrate 50 years in operation. They are planning many networking and cultural events over the next year, and the Brazil Hub at CUE will play a big part in connecting businesses with industry and government partners.
Also speaking at the event, Cecilia Oteiza Ayres, Investment Attraction Advisor for Invest Alberta, emphasized that, "Today is an international milestone. There is significant development happening in all regions of Brazil, and they are looking for opportunities in Alberta." The Brazil Hub at CUE will be a way to "fast track" their growth and connections, and provide more jobs for the community as well, she said.
Sarah Tiet, VP of Strategic Operations, Edmonton Global, spoke about the excitement in learning about the new Brazil Hub in western Canada, and she looks forward to "supporting the growth of companies who land here." She said that in particular AI, agriculture and energy are growing sectors in Brazil and will create many opportunities for Alberta. 
We also had the opportunity to hear from Carolina Belloc Janke, CUE exchange student from Brazil. Carolina was born in Porto Alegre, Rio Grande do Sul, Brazil, but grew up in Florianópolis, Santa Catarina, Brazil. She is studying Drama at the University of the State of Santa Catarina and since the end of August she's been in an exchange program at CUE.  Carolina wanted to express her gratitude at being able to welcome the Brazil Hub to CUE:
"I am grateful for the opportunity it will provide to students who will work in areas of research and innovation in different areas around the world." – CUE student Carolina Belloc Janke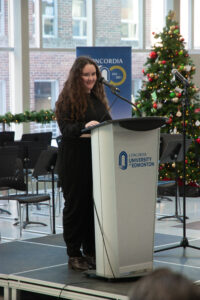 Guests of the event were also fortunate to be entertained by Manfred's uncanny rendition of "Querida" – in English the word means "Darling" by Antonio Carlos Jobim (Tom Jobim), the father of the Bossa Nova Style in the early 1960s. Manfred played the song as a tribute to Brazilian culture, and he was fortunate to be authorized to play the song by the Instituto Antonio Carlos Jobim, in Rio de Janeiro.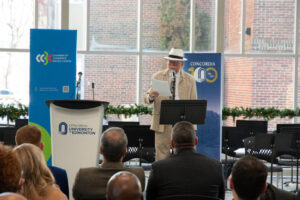 The event was a great start to what is going to be an advantageous partnership between CCBC and CUE. "The establishment of the Hub at CUE is a great moment for us all, a great honour and a formidable opportunity to foster our teaching, research and innovation," says Manfred.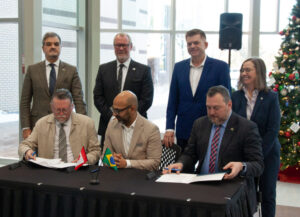 Brazil Hub Announcement Video – Speeches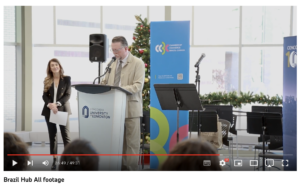 Listen to Isha Katyal, associate vice-president of innovation at CUE, speak about the Brazil Hub on CBC's Radio Active