Go back to news
CUE Food Bank Donation Drive
Posted on: Dec 11, 2019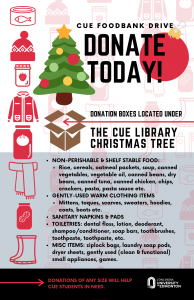 Please consider making a donation to your CUE Food Bank this week.
Items we could make good use of include:
*non perishable food items
*sanitary napkins/pads
*toiletries (lotion, deoderant etc)
*clean/good working order small appliances (ie. toaster oven, blender etc)
*board games
DONATION BOXES LOCATED UNDER THE CUE LIBRARY CHRISTMAS TREE.
Your support and kindness is appreciated! (foodbank@concordia.ab.ca)