Go back to news
CUE Faculty at the Fringe
Posted on: Aug 15, 2018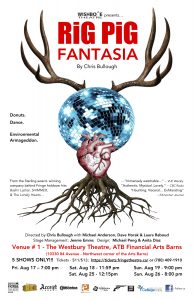 The Fringe Theatre Festival starts this week and two CUE drama instructors are collaborating on the premiere of Rig Pig Fantasia. The show's producer and designer is Michael Peng who teaches acting and public speaking and was recently on our stage as C.S. Lewis in Freud's Last Session. The writer and director is Chris Bullough who directed A Midsummer Night's Dream for us in 2016.
The show produced by Chris and Mike's company Wishbone Theatre promises to be thought provoking and entertaining:
Three Albertans find themselves locked in an epic battle between Industry and the environment: An oil worker with a burgeoning artistic side. An oil worker determined to succeed on his own terms no matter the cost, and an eco-advocate from a blue-blooded oil family.
When words fail, they dance.
For info about tickets, dates and times:
https://tickets.fringetheatre.ca/performances.php?eventId=601:1960
wishbone on Facebook: https://www.facebook.com/wishbonetheatre/
Rig Pig Fantasia Event: https://www.facebook.com/events/469889376818345/
Wishbone Theatre returns to the Fringe after FIVE years for FIVE performances only!
2009 Edmonton Fringe – Bashir Lazhar – HELD OVER!
2010 Edmonton Fringe  – Shimmer – HELD OVER! + Sterling Award
2011 Edinburgh Fringe – Bashir Lazhar – Best Actor nomination, Michael Peng
2013 Edmonton Fringe – The Lonely Hearts – HELD OVER!
wishbone theatre…
"Immensely watchable…"  VUE Weekly
  "Authentic. Mystical. Lovely."  CBC Radio
"Visceral… Exhilarating." Edmonton Journal