Go back to news
CUE celebrates Class of 2019 and honours Dr. Margaret-Ann Armour and Mike Wade
Posted on: May 27, 2019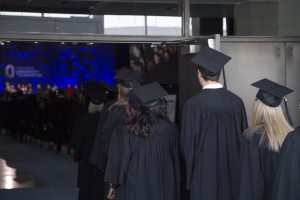 Concordia University of Edmonton (CUE) celebrated its graduating Class of 2019 this past Saturday, May 25.
Dressed in splendour, our graduands arrived with their families and friends eagerly anticipating the ceremony where they would be hooded in the colours of their respective programs, and then cross the stage as graduates to be congratulated by the President and Vice-Chancellor of our university. And they did, with style, grace and happiness. We are so proud of our graduates and are confident they will continue to be independent thinkers, active and honourable citizens, and ethical leaders.
We were also thrilled to award Governor General Academic Medals to Oluwayemisi (Ruth) Oyewumi, who received the Gold Medal for excellence in the graduate level Master of Information Systems Assurance Management (MISAM) program, and Kira Dawson, who received the Silver Medal for outstanding achievements in her undergraduate Bachelor of Arts program.
Two Honorary Degree recipients were celebrated on Saturday: Dr. Margaret-Ann Armour and Mr. Michael Wade. Mike Wade, CUE's former Board Chair and current Director of our Centre for Applied Artificial Intelligence was thrilled to be honoured by his alma mater. He is a steadfast supporter and is eager to advance and grow the university's reputation as a small pre-eminent university. Sharing life lessons he had learned from his experiences at CUE in his speech to the students, Mike quoted an anecdote, "sometimes we lead, sometimes we follow, but we always have to contribute." He encouraged students to continue to contribute in any way they can to their communities, concluding that he could not "imagine my life without Concordia."
Dr. Margaret-Ann Armour was excited to be honoured by CUE and was determined to congratulate our students at convocation in person. Sadly, she passed away peacefully on Saturday morning surrounded by friends and family.
We are grateful that Dr. Armour invited Board Chair Russ Morrow and President Tim Loreman to present her honorary degree prior to our ceremony, on Friday afternoon. They were joined by Dr. Alison Yacyshyn, Dean of Management and Dr. Glen Loppnow, chemistry professor from the UofA, in the small intimate ceremony. She was happy and optimistic, and delighted with the honour. "For me, the wonderful part of this ceremony is honouring students," she said. "It's their day." For the students, she continued, "I congratulate you and I believe in you… may the world take you in every direction you wish to go."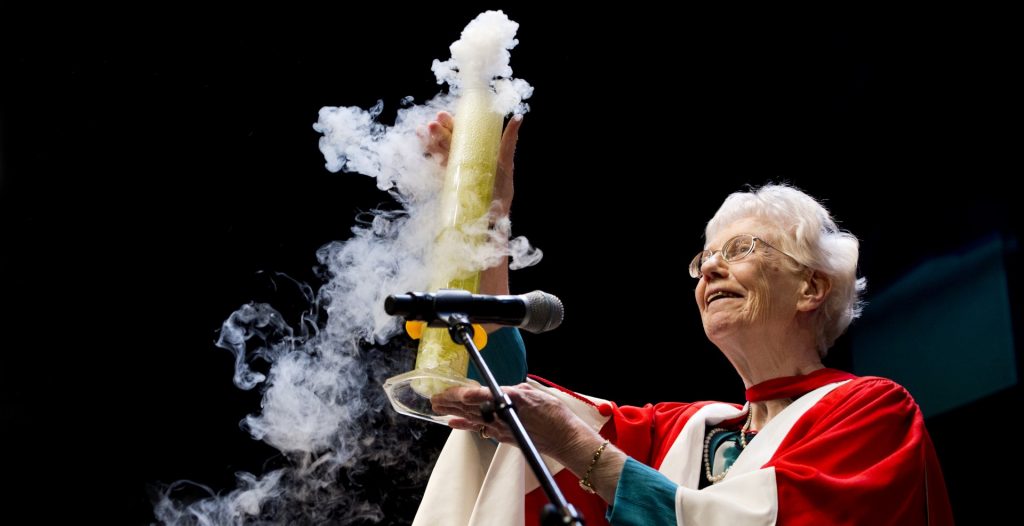 CUE's flags will fly at half-mast for the week of May 27th, in honour of Dr. Armour.
A video of Saturday's convocation ceremony, including Dr. Armour's message to the students, will be posted soon.
University of Alberta, Faculty of Science – Remembering Margaret-Ann Armour