Go back to news
CUE Bookstore will soon be Under Construction!
Posted on: Oct 10, 2022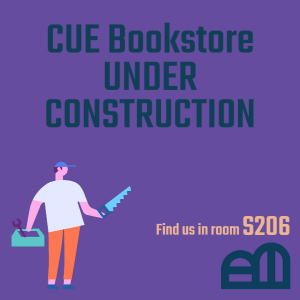 Very exciting things are happening at the bookstore. You may have noticed new merch and a new website under the name Bookish . That is our new name, and the store will be getting a makeover to match these changes.
On Tuesday October 4, the bookstore will be moving to a temporary location. Faculty, staff, and students can find us in room S206 in Schwermann Hall across from the multi-faith prayer room.
We kindly ask that you pass along this information to anyone who might be trying to find us. We look forward to seeing you in January 2023 in our new store Bookish!