Go back to news
CUE and Roseridge Waste Management Services Commission – Building intelligent waste management solutions together!
Posted on: Nov 2, 2022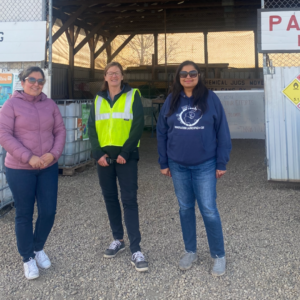 Concordia University of Edmonton (CUE) is pleased to announce a new partnership with the Roseridge Waste Management Services Commission located at Sturgeon County ('Roseridge'). CUE and Roseridge have signed a Memorandum of Understanding (MoU), which may lead to future collaborations and opportunities in automated waste sorting using Machine Learning.
Roseridge Regional Landfill is an environmentally secure landfill, with a detailed operating plan and a stringent environmental monitoring program. It has been in operation since 1980. The facility receives approximately 70,000 tonnes of municipal solid waste annually. The facility also has a composting ecosystem that benefits local farmers.
The intent of the MoU is to explore ways to collaborate on the development of initiatives that can improve waste sorting and educate the community members. "We are so excited to be part of this initiative with CUE. Roseridge is going to benefit so much from this collaboration" said Roseridge's executive director Susan Berry.
As part of the project, CUE will develop a machine learning-based tool that can classify household waste and recycling items and provide related instructions for proper disposal. This project will be led by Dr. Nasim Hajari, Associate Professor, Department of Mathematical and Physical Sciences, Faculty of Science with support from CUE Innovation Hub "We are focusing on building an app to meet Roseridge's needs but also bearing in mind the potential to scale up the product to benefit other municipalities and household users," mentioned Nasim.
Please reach out to innovation@concordia.ab.ca for more information on this collaboration.
Image caption: L-R: Dr. Nasim Hajari, Associate Professor, Department of Mathematical and Physical Sciences, Faculty of Science; Susan Berry, Executive Director, Roseridge and Dr. Isha Katyal, Associate Vice-President, Innovation