Go back to news
CUE acquires the Magrath Mansion and receives the largest individual gift in its history from the Braaksma Family
Posted on: Aug 18, 2021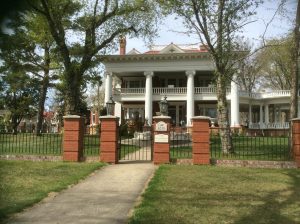 Concordia University of Edmonton (CUE) has acquired the historic Magrath Mansion in the heart of the Highlands neighbourhood from the Braaksma Family.
The Magrath Mansion is a two and one half-storey building overlooking the North Saskatchewan River in Edmonton's Highlands neighbourhood. Built between 1912 and 1913 by William Magrath, the house was designated a Provincial Historic Resource in 1975 and has been owned by the Braaksma family since 2000.
"Today is a very exciting day for CUE," said Dr. Tim Loreman, President and Vice-Chancellor. "The Magrath Mansion is an important part of Edmonton's history. We are grateful for the Braaksma family's generosity, and we are looking forward to inviting our students, faculty, staff, and community to learn about the property's history, be inspired by its architecture, and continue creating its legacy."
As the new owners, CUE is committed to maintaining and caring for the property, which will serve as community gathering space and venue for events, fundraisers, conferences, seminars, and student-centred programming.
"The Magrath Mansion has been an important part of so many lives," said Nellie Braaksma. "When we bought the mansion, we wanted to restore it and extend its presence in the community. Since then, we've been fortunate to welcome visitors from around the world to the property to admire and appreciate it, and I am very happy that it will continue to have a presence and make an impact as part of CUE."
Valued at $3.175 million, the property covers five municipal city lots, providing ample space for education, research, entertainment, and gathering. While real estate donations are common at other post-secondary universities, this is the largest individual gift ($1.425 million) that CUE has received to date.
"The possibilities are endless," said James Wakelin, President of the Concordia Students' Association. "We are excited to start brainstorming and imagining how we can use the space provided by the Magrath Mansion to serve and deliver programming to students."
Located on Ada Boulevard, CUE is celebrating its 100th anniversary and, from humble beginnings, has grown into a secular, diverse institution where students from all walks of life go to discover their purpose, engage in scholarly debate, and work on leading research projects. CUE has momentum, purpose, and potential, and is entering its second century with confidence as it strives to become Canada's pre-eminent small university.
"For decades, the Braaksma family has been committed to serving others and contributing to the community," said Dr. Loreman. "As the new owners of the Magrath Mansion, we look forward to continuing that commitment."