Go back to news
CSO in World Premiere of Bevan's "Ancient of Days"
Posted on: Apr 4, 2019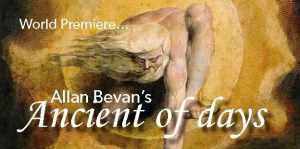 The Concordia Symphony Orchestra (dir. Danielle Lisboa) and Edmonton Metropolitan Chorus collaborate on April 15 on the world premiere of Ancient of Days by one of Canada's greatest composers, Allan Bevan. This multi-media work for chorus, orchestra, soloists, and actors is based upon the ideas, poetry, and visual art of English mystic William Blake. The hour-long all-Bevan program takes place Monday, April 15 at the Winspear Centre, and promises to sell out shortly. A few tickets ($25) are still available at the Concordia Bookstore.
Bevan comes to the Concordia campus the previous Friday, April 12, to talk about Blake and the intense process of composition: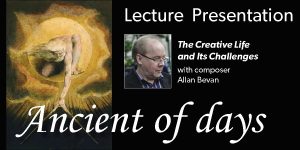 "TO SEE WHAT IS IN THE PIT"
THE CREATIVE LIFE AND ITS CHALLENGES
Friday, April 12, 4:30-5:30 pm
in the Lynn Mandel Music Room (A314)
Ancient of Days is inspired by William Blake (1757-1827), whose ideas on gender, spirituality, and the human imagination are remarkably modern. He was unafraid to plumb the depths of the human soul, to exalt creativity as humanity's true calling, and steadfastly to refuse to sacrifice his artistic ideals in the face of crushing poverty and a hostile public. His thoughts, often dense and unsettling, or in contrast deceptively simple, soar above everyday life and take us into his fascinating world of angels, devils, heroes, and innocents.
This new composition presents a Blakean tableau of "contraries," "emanations,""spectres," and "shadows" in a brand-new "beatific symphony" for singers, actors, and players. Was Blake an unfortunate lunatic, a visionary creator, or both? In discussing the musical materials, his compositional process, and ways in which Blake's writing is used to create an imaginary self-portrait, Bevan invites you to enter the poet's creative world, perhaps to encounter some of yourself there.
An interesting aside: Bevan's son Brendan, currently studying composition at the U of A, has been ringing with Jubiloso! Bells of Concordia this year.