Go back to news
CSO Evokes the Land of the Free on Sunday
Posted on: Mar 1, 2019
This Sunday, March 3, the Concordia Symphony Orchestra evokes the "Land of the Free" in Tegler Student Centre (3 pm).
The concert centers around an epic favourite, Antonín Dvořák's Symphony No. 9, "From the New World." The Czech composer wrote his last symphony while living as an immigrant in Manhattan's Upper East Side in 1893. The piece, shaped by his exposure to African-American spirituals and Native American music, instantly became an emblem of North American symphonic writing: the "land of the free" through the lens of a foreigner, and yet one of the most eloquent portrayals of the country.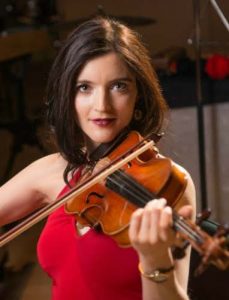 Brightening the afternoon is a tour de force of the string virtuoso repertoire, the Sibelius Violin Concerto, rendered by acclaimed Canadian violinist Virginie Gagné. The program ends with a celebration of colours driven by the South-American rhythms of Guarnieri's Dança Brasileira.
The afternoon begins with a pre-concert chat at 2:30. Items for the Concordia student food bank will be gratefully accepted at the door.
Get your free ticket today from Jennifer Maxfield in A306. Additional tickets are $20 for adults and $15 for students and seniors, and are available from Tix on the Square (780.420.1757), Concordia's Bookstore, or at the door. Special Family Admission: $40 (available at the door only).