Go back to news
COVID-19 Update: Online Portal Open and Withdrawal Deadline Extension
Posted on: Sep 17, 2021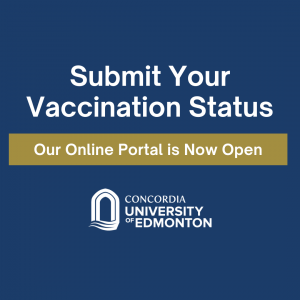 Yesterday, CUE announced that it is implementing the Government of Alberta's Restriction Exemption Program to protect the health and safety of our campus community. The program will come into effect on campus on October 4, 2021, and requires that we only serve those who are fully vaccinated against COVID-19. Classes will be held online until we return to campus on October 4, 2021. The full details of how the program will be implemented at CUE can be found here.
Beginning today, members of the CUE community can declare their vaccination status or apply for an exemption using our secure online portal. The process is quick, safe, and easy—simply select your vaccination status from the drop-down list, upload your evidence of vaccination or exemption, finish completing the form, and press submit. Once submitted, your status will be reviewed by either Student Life and Learning or Human Resources, and an appropriate label will be stored on your record. For more details, click here.
Members of the CUE community who cannot establish that they are fully vaccinated or who have not received an exemption based on a valid medical or human rights-based accommodation before October 25, 2021, will not be permitted on campus. We are operating under a state of public health emergency, and we must act to protect our community.
With that being said, we are extending the withdrawal deadline to Tuesday, September 21, 2021 at 11:59 p.m. MDT for those wishing to withdraw from all of their courses or their program without financial penalty. Deposits will not be returned and an administrative fee will apply. Beginning September 22, 2021, students wishing to withdraw will be subjected to financial penalties, as detailed in the Academic Calendar.
Vaccination is the safest and most effective way to prevent serious illness from COVID-19, and implementing the Restriction Exemption Program will allow us to return to in-person learning while keeping our campus community heathy and safe. This is an incredibly difficult time for many, and we would encourage you to ensure you are monitoring and taking care of your mental health. Please remember that supports are available through Student Life and Learning and/or Human Resources.