Go back to news
COVID-19 update: Classes going online for the month of January
Posted on: Dec 21, 2021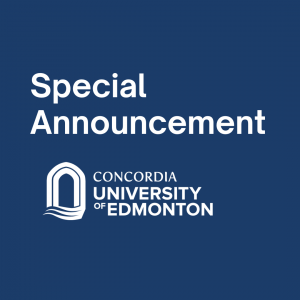 This afternoon, CUE President and Vice-Chancellor Dr. Tim Loreman attended a meeting with Alberta's Chief Medical Officer of Health, Dr. Dena Hinshaw, Alberta Health Services staff, Alberta's post-secondary presidents, and senior representatives from the Ministry of Advanced Education. Dr. Hinshaw outlined the seriousness of the Omicron variant, with January being a critical period, but advised there will be no additional mandatory restrictions for post-secondary institutions today. We are, of course, free to make our own decisions based on the information she provided, which included warnings of significant numbers of transmission and unprecedented impacts. It was sobering news.
Dr. Loreman has since met with CUE senior administration and available members of the CUE Crisis Management Team. As a result, it's been determined we will need to start our winter semester virtually, as we did last year. We will, therefore, move to off-campus delivery of all courses until at least Jan. 31, 2022. We also ask that everyone who can work at home does so to the greatest extent possible until Jan. 31. We intend to return to on-campus learning commencing Jan. 31, although we will, of course, monitor the public health situation closely and if we need to extend virtual learning, we will.
Some details:
New student orientation will happen, but it will be virtual.
Student services, including those for international students, will be available virtually.
Our physical library will close for January, although supports will be offered virtually and books may be picked up.
Students are discouraged from studying on campus during January.
All on-campus events for January are to be cancelled and moved online.
The campus fitness room is closed for January.
Decisions on athletics events and fine arts performances are yet to be made, although certainly spectators will not be at these events should they go ahead.
Residence will remain open.
Limited food services will likely remain available.
Other Alberta post-secondary institutions will be announcing similar measures today, although exact dates and some details vary. For some, this will be seen as doing too much too soon, while for others, it will be too little too late. Regardless, CUE will continue to protect the health and safety of our community as we have done successfully throughout the pandemic, and in doing so our decisions are and will be guided by the information and regulations provided to us by Alberta Health Services and the Ministry of Advanced Education.
This, of course, is inconvenient and disruptive. However, our faculty and sessional instructors have shown time and again throughout this pandemic that they care and are willing to adapt and be flexible for the sake of our students. Our support staff and administration have also shown their compassion and an ability to modify their work in the face of COVID-19 challenges. Our students have been very understanding and willing to help us address the challenges. We have and will continue to get through these dark times together, as a community.
While further restrictions on physical interactions will hopefully help to limit the spread of the Omicron variant, along with our fully vaccinated community and other practices such as rapid testing and mask wearing, our physical health is not the only issue here. We have been working hard at CUE to provide mental health supports, the demand for which has increased significantly. Student supports are available through Student Life and Learning. For employees, please contact HR. We are here for you, and we care about you.
Please check your CUE email regularly for updates. We will share more information as soon as it becomes available.