Go back to news
Convocation – Mark your calendars!
Posted on: Feb 11, 2019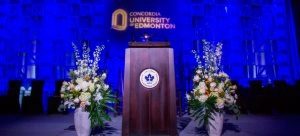 You are invited to attend the Thirty-second Convocation on May 25, 2019.
PARTICIPATION: All faculty (full-time and sessionals) and administrators are invited to participate in the event.
ACADEMIC REGALIA: Individuals participating in the academic procession must provide their own academic regalia.  If you are interested in renting academic regalia, please fill out the form to rent here. The deadline for submitting a request to rent academic regalia is April 5, 2019.
If you wish to purchase your own academic regalia, please contact Gaspard or Harcourts.
MARSHALS: Please contact Caroline Howarth if you are interested in serving as a marshal at Convocation.
RSVP for the event here.