Go back to news
Connection, healing and fun: Join us at CUE's Annual Round Dance
Posted on: Sep 28, 2022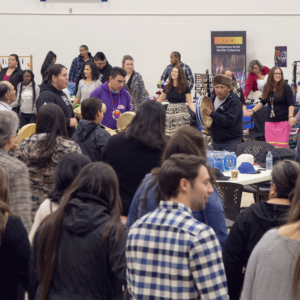 We invite students, faculty and staff to immerse themselves in the joyful traditions of songs and the beat of the drum, and benefit from the healing effects of the Round Dance.  
"At the last Concordia Round Dance, students had a blast – they were dancing all into the night. At the end of the evening they told me that their feet and hips were sore from all the dancing they did! But it was worth it," said Gina Donald, CUE student and Councilor for the Sawridge First Nation. Sawridge First Nation is a partner to CUE and contributor to the ceremony. 
"My advice to newcomers is to get up and dance. This Round Dance will be about togetherness. It is the first time since COVID started that many of us will be going to the event. It is very much needed right now as a time for healing." – Gina Donald
A time for healing
Gina spoke about the healing touch that people experience when it comes to holding hands while dancing. "Just as people can feel the healing effects of a hug, holding hands with people has a similar effect – some people have a very healing touch," she added.
Lyle Tootoosis, the Stickman of the Round Dance agrees, "We need this healing touch more than ever since the pandemic. We have lost that natural touch – we even had to give up handshakes out of safety. It is important to connect now and lift each other up." 
"By sharing in the circle with friends and family, children and grandparents, it is such a positive feeling that tells people, you are not alone – people love you." – Lyle Tootoosis
Role of the Stickman
Lyle has been a Stickman at ceremonies for the past 10 years and, along with Colin Raine, will be guiding the event. "I watched my uncles in this role and I learned from them, and I felt it was important to help where needed," says Lyle. 
The Stickman guides the flow of the evening and works closely with organizers to make sure the event runs smoothly. Lyle advises on all logistics of the evening, including who the speakers are, how the chairs will be arranged, how the space will look – even issues around parking.
"It can be challenging to find the right space within the city limits," explained Lyle "All elements of a Round Dance are important, including the fire, which signifies the natural elements of Mother Earth." While some logistics have to be adapted, such as the use of fire. Lyle says all components of the Round Dance are what makes it what it is. "The heart beat sound of the drums, the feeling you get from the songs, the pipe ceremony, and the fire." 
The tradition of the Round Dance
Typically a pow wow will take place in the summer, while a Round Dance takes place in the winter months. "Traditionally a Round Dance would involve a large feast, and anyone could join in the feast. It was a way of giving and healing." Lyle described. CUE will have soup, bannock, and berries at the ceremony for all who come to visit. 
Prohibitive legislation in Canada banned Indiginous dancing, including Round Dances – most notably a 1921 order that labeled these ceremonies as "Indian Offences". Over time, as Round Dances reemerged they are now held for many occasions: "There can be many reasons to hold a Round Dance," he said. "Someone's passing, a birthday, or honoring someone's graduation."
Connection with people near and far
The Round Dance is a time for friends to share stories and great food, and meet people you may not have seen in a while. 
"Some of my favorite memories as a child were going to the Round Dances and being around family" says Gina, "We were meeting family from all over – cousins we had never met would come, we were all related in some way – they would ask 'who is your mother?', 'who is your father?', 'Oh yes, we know them'. "
For people coming from near and far, "whether they are Nakota, Dene, Cree, Métis or any other heritage or background," Lyle says. "The Round Dance for me is about building connections and togetherness, no matter peoples' background – Indigenous and non-Indigenous."
The richness of the Round Dance is the people who travel in from all locations, Lyle explains.  
"Singers will come from B.C., from Saskatchewan, from all over Canada, and will sing old songs that you wouldn't normally hear and that our elders have not heard in a long time. Just like people travel in for any festival – they come for the stories, music, food, laughter and healing."
Modern influences of the youth
While there may be many traditional songs, the youth have also transformed the way we sing explains Lyle. "The young people will mix English with Cree and include songs people are interested in from the radio. We have boundaries within the Round Dance, but we are not strict when it comes to songs, there is a lot of variety."
Gina said they also try to involve the young children in the singing. Gina recalls at past Round Dances they even had a rendition of the Sponge Bob Square pants intro that all the children sang along to. "Children will have more fun than you do," said Gina, "so bring them along!"
Cultural awareness matters
For those not from an Indigenous background, Lyle encourages you to come be a part of the Round Dance anyway. "It is important to come and observe what you may not understand." stresses Lyle. "You will see how we respect one another, how we respect our Elders, how we respond to the music, how we conduct ourselves with people of all backgrounds. 
"It's important to understand other cultures, because we will learn more about ourselves and our relationship within the world." – Lyle
"In line with Truth and Reconciliation, I hope that we can live in peace and bring these teachings of respect and understanding with us into work, schools and our homes," said Lyle. 
An annual tradition
CUE has incorporated the Round Dance as an annual tradition to begin each academic year. Join us on October 1, 2022 at 5 p.m. – 11 p.m.
Learn more about the Round Dance.