Go back to news
Congratulations and best wishes retirees!
Posted on: Feb 22, 2023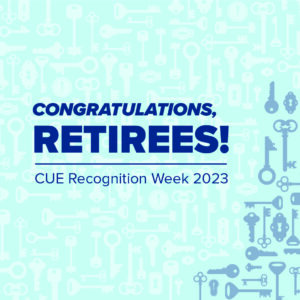 Thank you all for your hard work and dedication to CUE. We're extremely grateful for your leadership and support on campus, especially the impact it's had on students. CUE was lucky to have you, and we know that your legacy here will be long-lasting.
We're proud to recognize each one of you at CUE Recognition Week 2023 for your commitment and dedication to CUE, its mission and vision, and its students. As our theme this year illustrates, you truly are the  "Keys to our Success". 
Many of our retirees have had many years contributing to the lives of students, including Dr. Mariola Janowicz who this year we are celebrating 25 years of service!
Best wishes for a wonderful and relaxing retirement.
A special thanks to the following retirees:
Dr. Zoltan Berkes
Letter by Dr. Patrick Kamau, Dean of Science
With your retirement last year, your absence from Concordia is greatly felt. Zoltan you were a passionate teacher in both earth and atmospheric sciences as well as physics. I always valued and appreciated your insights and colleagues both in the Faculty of Science and others always appreciated your vast historical knowledge of CUE. Your students always spoke fondly of you and to quote, one student wrote; "If a student reaches out to him with concerns about the course, he will help provide solutions, I believe he really wants to student to do well and cares about their success."
And yet another student wrote; "Taught by a very intelligent and kind man."
I want to affirm the students' sentiments. Students and colleagues alike will always have an everlasting
memory of your kindness and caring nature as well as your vast intellect. It's hard to believe that you have been retired for less than a year but looks like an eternity when we did all those trips to the SeaCan to retrieve EAS/PHY equipment. I never missed any lunar/solar eclipses etc. as you were always on top of things astronomical and would always kindly inform of the upcoming terrestrial events. You not only looked skyward but closer to the ground, always looked forward to meetings you were present as I was sure there would be photo evidence courtesy of you. Our loss I am certain will be a gain for the Hungarian community as they will have more time with you especially with your devoted work for the benefit of the Hungarian Diaspora in Canada. Certain that the Physics of Music will ring loud in your community. Wishing you a happy retirement and all the best in life. Go Zoltan go!
Dr. John Jayachandran (Jay)
Letter by Efa E. Etoroma, PhD., Associate Professor of Sociology
I am honored to write this brief note about Dr. John Jayachandran (Jay), an excellent educator who has won numerous official and unofficial accolades as a scholar during the past thirty-plus years that I have known him. His thirty-plus years' work as a teacher, researcher, and administrator at Concordia are very noteworthy.
I'd like to reflect on Jay's basic humanity, for, as it's often said, people care less about how much a person knows than about how much a person cares. Jay cares, and I think that matters a lot.
I first met Jay in early 1992 when I came to Concordia from Eastern Canada for an interview. I am happy to say that it was Jay's warm reception in early 1992 that informed my decision to accept Concordia's offer of employment and that helped me remain here. I think Jay is very approachable and engaging at least partly due to his legendary story-telling abilities and his self-deprecating humor.
In the past three decades, Jay and I and our families have developed very strong bonds that have formed the core of our social capital. I am glad that Jay's retirement has enhanced our relationship. I see John Jayachandran as more than a colleague and friend; I see him as a social or fictive kin.
Happy Retirement. As always, I wish you the very best, my brother Jay.
Dr. Dorothy Steffler
Letter compiled by Wendy Pullin, PhD and Alison Kulak, PhD Associate Professor, Department of Psychology
Dr. Dorothy Steffler was an excellent teacher and mentor, not only to our psychology undergraduate students, but to other faculty members and sessional instructors, as well. Dorothy assumed a variety of educational leadership roles over the course of her career, including multiple terms as Department Chair.
Dr. Steffler maintained strong programs of research in which she involved students; both by using her research as an impetus for engaging students in the classroom and by engaging her students in her research via independent study opportunities. These opportunities have been pivotal in preparing students for graduate programs. For example, Kenneth Murdoch, who is now completing his Ph.D. at the University of Alberta, summarized his admiration and appreciation for Dr. Steffler this way:
Dr. Steffler stands out as one of the kindest, most supportive, and inspiring professors I've ever
had. Dr. Steffler was the professor for my first statistics class. She also guided me through my
first research project, conference, and peer-reviewed publication. As a professor, Dr. Steffler is
truly student-centred, meeting students at their ability level and supporting them to push
themselves to their full potential.
Dorothy also modelled the values of care, concern, and equity that she applied to all her deliberations and interactions with our students. We are, indeed, fortunate to have had such a colleague. The following student evaluation comment encapsulates this with the remark that Dorothy 'sets the bar' for the rest of us.
Student 3: I want to thank you for all your hard work this semester. Concordia's success has so much to do with the small class sizes and dedicated Profs. I believe you set the bar. You adapted so well to the online format and offered support and encouragement every step of the way. On the Concordia Student Facebook page students rave about you and it's well deserved. Consistent with the student comment, as departmental colleagues, we rave about Dorothy, too. 
She set the bar by demonstrating how to approach students in the most professional manner possible, while not conceding standards and criteria for success in her courses. This student comment demonstrates the kindness, care, and concern Dorothy demonstrated for students who might be struggling in her courses, or in their lives: 
Hlo professor. Thank you for this great semester professor… Thank you to guide me …I know I make a lot of mistakes this semester…thank you for being patient to me…and not to give up on me. 
We miss your daily presence, Dorothy. However, we look forward to hearing tales of all the great things you are doing in your retirement such as spending time with children and grandchildren, travelling to new horizons, and perhaps enjoying some fulfilling writing or other creative activities.
Dr. Mariola Janowicz
Message from Xin Chen, Dr Xin Chen Associate Professor, Department of Biological and Environmental Sciences
Mariola, congratulations on your retirement! You have left with us countless fond memories. We would thank you for having been such an invaluable colleague and a wonderful friend.  You will be remembered for many things. First of all, you will be remembered as an effective and engaging professor for the large variety of courses that you have developed and taught, which has significantly strengthened our  academic programs and enriched student learning experience. You will be remembered as a productive researcher for your interesting research projects which have helped a significant number of students to gain knowledge, skills, and experience in research. You will also be remembered for your leadership in your role as the department chair from 2018-2021 which was instrumental for the  continuous improvement and perfection of our programs. After all, you will always be remembered as a kind and goodhearted person!
Dr. Neil Querengesser
Message from Barb van Ingen, PhD, Vice-President Academic and Provost 
My deepest congratulations on your retirement and gratitude for all your years of service to Concordia. I write to you not only as a colleague, but as a former student. You made literature come alive, inspired excellence, and most importantly, cared deeply for students. Thank you for your humour, warmth, and wisdom. Wishing you all the best in your retirement.
Dr. Timothy McNamara
Message from Barb van Ingen, PhD, Vice-President Academic and Provost 
My deepest congratulations on your retirement and gratitude for all your years of service to Concordia. I write to you not only as a colleague, but as a former student. You made literature come alive, inspired excellence, and most importantly, cared deeply for students. Thank you for your humour, warmth, and wisdom. Wishing you all the best in your retirement.
Bac Kieu
Message by Ed Borass, Chief Information Officer
Bac Kieu joined CUE in 2008 and was an integral part of Concordia for the 14 years that he
worked in IT Services. As CUE's audiovisual & classroom technology specialist, Bac's was a
familiar face for anyone who worked in the classroom or participated in CUE's events. Whether
he was taming a misbehaving projector, helping someone make use of classroom technology, or
supporting a major presentation, Bac approached his work with a smile and a "people-first"
approach.
Bac had a way of approaching complex situations with a calm and reassuring demeanour,
helping people to feel supported and at ease. He was also widely known for his cooking,
bringing all kinds of delights to share with others at CUE pot lucks and on spontaneous
occasions. Bac will be missed across campus, and we wish him joy in his retirement. Thank
you, Bac!