Go back to news
Concordia Science Society Journal Club – November 27th, 2019
Posted on: Nov 25, 2019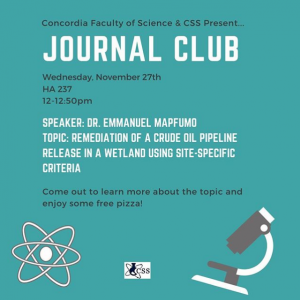 The Office of Research Services would like to invite you to a research event. Concordia Science Society, along with the Faculty of Science, have prepared a Journal Club series. This week, Dr. Emmanuel Mapfumo, Assistant Professor in the Faculty of Science (Department of Biological and Environmental Sciences) will present the topic "Remediation of a Crude Oil Pipeline Release in a Wetland using Site-Specific Criteria".
The Journal Club will be held in room HA237 at noon on Wednesday, November 27th.
If you are interested in this series of events, please contact Concordia Science Society, or follow them on social media.