Go back to news
Concert Choir Crooning This Season
Posted on: Nov 27, 2019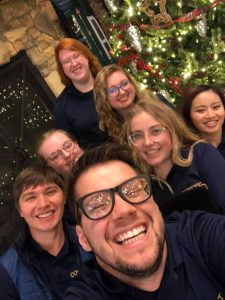 Carolling at Cabela's North and South locations and Sutton Place Hotel's Home for the Holidays was just the start of seasonal community gigs for Concordia Concert Choir singers!
Catch the Concert Choir in Tegler today, Wed. Nov. 27, at Concordia's German Christmas market! They'll be singing (12:45 pm) and selling German-themed ornaments and baking. They'll also be here:
And of course their December 1 concert, May I Be Still!
While this season is always busy for singers, this year choristers have additional impetus: raising sorely needed funds for their spring tour to China!